Giving medical experts on-demand access to the OR
from anywhere in the world.
A Game-Changing Solution For Healthcare Professionals
Rods&Cones solution uses a technology that empowers surgeons, medical device specialists, and other experts to work together – remotely.
With Rods&Cones' technologies, medical device representatives can triple the
number of surgeries they attend in a single day. Curious to find out more?
Rods&Cones is a remote assistance solution for medical
environments.
Using our smart surgery glasses and digital remote assistance platform, users can connect safely with an assisting surgeon, product specialist, or medical professional anywhere in the world, in real-time.
Our smart surgery glasses are simple to operate. Plus you don't need to install any software to use Rods&Cones. Everything is cloud based – all that's needed is a WiFi or 4G connection to get up and running.
Security & Data
Protection
Rods&Cones' technology is encrypted to the highest standards. The solution is compliant with GDPR and HIPAA regulations. We don't store any patient, customer, or sensitive data on our servers. We don't store any data at all.
Because more professional input is possible – via a time-efficient, collaborative, on-demand digital solution, everybody benefits. More patients can be treated: anytime, anywhere.
By providing their customers with smart surgery glasses, medical device reps can 'see' through the eyes of the surgeon, instrumentalist nurse, or any healthcare professional using them.
Thanks to this powerful digital solution, they can continue to work closely with hospitals in need of continuous support before, during, and after surgical interventions.
Surgeons, Hospitals & Medical Schools
From surgery assistance to remote proctoring; using Rods&Cones' smart surgery glasses surgeons, professors, and residents can demonstrate or attend live surgeries – giving them a close up view without the need for expensive broadcasting equipment.
Our platform is a stable, pragmatic solution that can be used in the OR, ICU, or across a wide range of medical services.
Rods&Cones offers an affordable solution to healthcare teams in areas where there's a shortage of medical experts – such as remote hospitals and developing countries.
As part of our commitment, we provide pre-owned smart surgery glasses to charities and NGOs: giving them full access to our entire solution for a fraction of the usual cost.
Surgery 2.0
The New Business Model
How MedTech Is Adopting Its Own Version of A "Remote Working" Model - And What Else Needs To Change First.
Access the right expertise, anytime from anywhere with Expert Address Book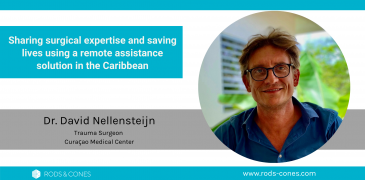 Sharing surgical expertise and saving lives using a remote assistance solution in the Caribbean
Ensuring data privacy and security compliance for users of remote surgical assistance technology
5 Myths About Remote Assisted Surgery Debunked
Discover the impact we're making
Eager to know how we can help you reduce time
and costs and get on demand access to the OR?