Rods&Cones is a game-changing solution, using technology to empower surgeons, medical device specialists, and other experts to work together – remotely.
Sounds unbelievable, doesn't it? 
To do justice to the vital role that surgeons play in life and death situations, articulating our mission here at Rods&Cones requires a deeper explanation. That's why we want to explain how we do it,  why we've decided to do it, and more importantly, who can benefit from it.
Surgery: A High-Stress Environment
While surgeons are highly-trained specialists, they work in a high stress, tense, and sterile environment. A single mistake could literally be fatal – or lead to complications that could severely impact a patient's life.
It's no secret that many require guidance in specific surgeries – from other more senior attending surgeons and from medical devices industry product specialists – such as the knee, hip, or stent implant surgery.
Device manufacturers are also more involved than many might think. As well as preparing vast amounts of step-by-step information, they often need to be consulted before (and sometimes during) surgery to ensure surgeons fully understand the necessary technical procedures.
Instrumentalists are also needed in the operating theatre – to ensure the right tools are selected, sterilized, prepared, and ready for use. Surgical nurses may also be needed to assist surgeons and ensure intraoperative patient care.
Too Many Potential Points Of Failure
All of this additional intervention can undoubtedly disrupt a surgeon's workflow – ultimately meaning that in surgery there are just too many potential points of failure. However, responsibility always points back to one person: the surgeon.
Also, in any other industry, when installing or setting up a new device, some form of remote product support – like a helpdesk – is available. That's not the case during surgery. Other than talking to somebody, there is no other form of communication possible. Manuals can't be consulted during an operation; steps have to be recalled from memory.
Equally, having an experienced senior surgeon on-call isn't ideal. For example, say a first-year registrar has to respond to an accident emergency at 3 am. He or she knows what to do when in theatre, but as a case becomes more complex they may have to call a superior to assist Not ideal for anyone given how time-critical surgery can be – not to mention the inconvenience and the costs involved.
Better Communication & Collaboration During Surgery
After ten years of working in the medical device industry, we've seen firsthand just how all of these issues can impact surgery. It's a long-drawn-out process, where everyone involved needs to be available; even if they're only needed very briefly – or in some cases not at all.
That's why at Rods&Cones we're committed to improving the entire experience; to give those who are needed immediate visibility during surgery, without needing to be physically present. Our way of doing this? Smart glasses.
Smart glasses may not be a new phenomenon where technology is concerned. However, we've customized ours with the sole purpose of helping medical professionals collaborate during surgery.
Rods&Cones: High Tech. High Performance. Low Risk
Equipped with high performance remotely operable cameras, Rods&Cones' devices allow surgeons, device experts, and senior attending surgeons to communicate remotely, in real-time.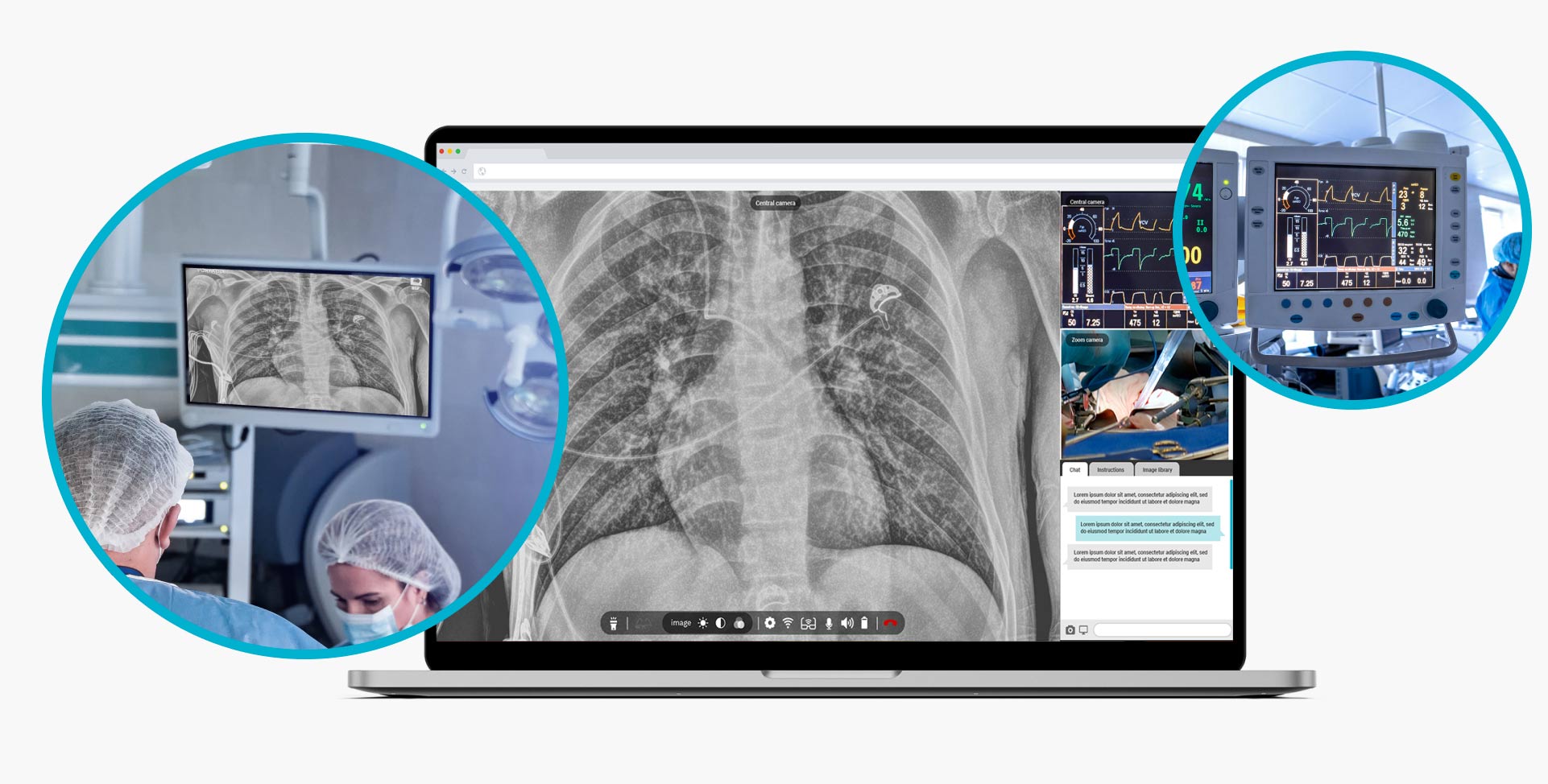 In practice, surgeons simply put the glasses before surgery, pair them to a mobile phone (kept under sterile clothing), and then call the required specialists simply by looking at a QR code in the operating theatre.
In this way, specialists can see and hear everything the surgeon sees. They can then discuss and monitor each case remotely. As a result of not being physically present, experts can be involved for the exact amount of time required – allowing them to 'attend' more surgeries.
Rods&Cones offers a complete end-to-end service – giving experts a secure and reliable way to do more remotely. But it's not just small companies benefiting.
Over the past year, we've seen that even large businesses, who would usually be slow to adopt this type of technology, implement tech solutions like ours much faster than normal.
These businesses usually have to worry about implementation, integrations, security, GDPR, and so on. But our technology has been tried and tested many times – passing very stringent patient safety and data security measures.
As a result, Rods&Cones is now often classified as a Priority Project; which means it has a crucial role in the current pandemic.
Building a Foundation for the Future
Rods&Cones is committed to building the best solution for surgeons and healthcare professionals to be able to work safer and more efficiently. 
It goes without saying that COVID-19 has taken center stage above everything else. We have seen people all over the world affected by this pandemic – physically, emotionally, or financially – and healthcare professionals have shouldered a fair amount of the burden too.
Since the pandemic, Rods&Cones' mission and purpose have only strengthened.
Leading The Way
Our idea started with the aim of supporting surgeons and medical device specialists by limiting the need to face to face meetings. We thought this was the right direction, but as in any business, the market or global factors can pull you on a slightly different approach.
We've always stayed true to our mission but, with demand being so high, we will end this year where we thought we would be in three years' time. What we couldn't have foreseen was that the demand for the use of Smart Glasses would increase tenfold in just a few short months.
But to keep pace with this our team has been improving the product and accelerating manufacturing and deployment to get them out on time, to the people who need it most all over the world.
Surgeons and doctors are now using our Smart Glasses in multiple ways – such as liaising with consultants across the globe, speaking to medical device specialists during a procedure, or supporting nurses on COVID wards.
Scale & Security
Our solution is scalable. The software is cloud-based and not hosted on our own, or on an on-premise server. However, we are acutely aware of – and sensitive to – patient and data security. That's why the software component is also very stable and secure.
But that's nothing medical professionals need to be concerned about – it's an IT issue. However, rest assured that all of the right safeguards are in place here.
Rods&Cones Solution: Easy and Intuitive To Use
From a hardware perspective, things couldn't be simpler. Unlike competitor solutions, ours is plug-and-play. Although our solution is straightforward to use, we've worked hard to ensure that our Smart Glasses are easy and intuitive for everyone who needs it – and that they can access it on-demand.
Before using our glasses, when they first log into our platform, all users have to go through a short automated onboarding process – which then gives them the skills they need to get up and running.
That's it. Nothing else. All of the other features and functionalities are taken care of.
No Interruptions
We focus on maximizing the user experience, to ensure medical professionals can better visualize what's happening in surgery – without interrupting the operation.
Surgery is complex enough. Our aim has always been to build a pragmatic solution that can be used even in highly stressful situations by the surgeons and remote experts.
That's why there is no focus on technology while using our solution. The only thing that matters is the expertise delivered.
Supporting Our Customers
Customer feedback is exemplary too. Many healthcare providers tell us that our Smart Glasses have improved their concentration and ability to multitask dramatically.
There is also great interest in the impact of Smart Glasses in teaching – whether, for example, communicating with students remotely during a procedure, or providing feedback on a day to day basis. Medical reps are also able to attend three times more surgeries in any given week due to the use of our Smart Glasses.
In times where demand is high, and staff levels are low, this is fantastic news to report.
In a high stakes environment, when millimeter precision is needed, anything that enables better patient outcomes and shorter surgery times – in a way that's cost-efficient, safe, and non-intrusive is a massive step forward for all involved.
We aim to provide our solution to everyone who needs it. Yup, that's a big challenge – but it's one we accept. That's why Rods&Cones exists. And that's what we'll keep striving towards.