Get started with Rods & Cones visOR-V
Connecting the smart glasses to the remote expert's view.
Our smart glasses have a 4k camera and a colour OLED display.
Easy to use and efficient power charging adapter.
Note: Not provided in Kit configuration.
High speed data transfer cable for
USB-C to USB-C.
Our ergonomic headband is comfortable and easy to adjust and will hold the smartglasses and battery pack.
This power bank provides up to 4 hours of power.
Get 3 hours of power with the light and efficient power bank V1. ​
Note: For new configurations, power bank V2 is provided instead of V1​
​
Get 2 hours of power with our light and efficient battery pack. (Note: newer models will have two Power bank V2 instead.)
visOR-V Smart glasses anatomy
Colour OLED technology display
Noise cancelling microphone
The built-in flashlight will provide clear images and video under low light circumstances
Easy and accessible select button for control
The device always needs to be connected to either the battery or the Powerbank. When fully charged, the smart glasses gives you 5 minutes of viewing time without any battery being connected. This allows for a hot swap of batteries during a procedure.
When fully charged the battery pack gives you 2 hours of viewing time.
Note: newer models will have two power banks instead of the battery pack.
When fully charged the powerbank unit gives you 4 hours of viewing time.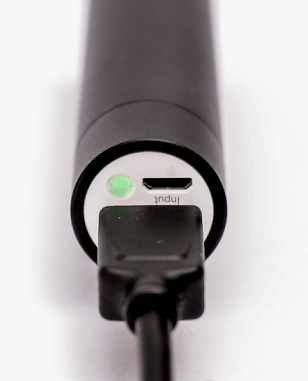 If using Power bank V1, you will need to press the button to activate this. A green light will appear to show this is active giving 3 hours of viewing time.