Our smart glasses can be set up to your physics ensuring a comfortable experience during your sessions.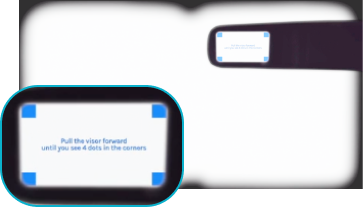 See 4 squares in the visor
Before clicking the 'START' button, check through the small screen display to see the 4 squares in the corner of the visor.
Once you are happy with the position of the display, you can hit the START button on your smartphone to continue.
You can adjust the screen display to your preferences and best fit.
The visor display is on a pivotal hinge which means it can be pushed up and down, as well as forwards and backwards to get the position that suits you. 
Don't be scared to play around with this!
Note: If you're in theatre, you can scrub in after asjusting the screen position.